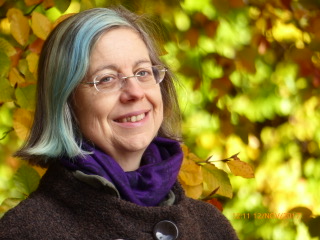 Roz Carroll (M.A. Cantab)
Roz Carroll is a registered body psychotherapist (UKCP) and an associate member of ADMP.  An evolving interdisciplinary understanding of embodiment has been central to her work as a psychotherapist, supervisor, trainer and writer. She has been in ongoing Authentic Movement groups for over thirty years. She taught on the M.A. in Integrative Psychotherapy at The Minster Centre for 14 years and has been a regular speaker at Confer.co.uk for twenty years. She was a founding co-editor in 2005 of the Journal of Body, Movement and Dance in Psychotherapy. With Jon Blend, she developed Witnessed Improvised Diaspora Journey Enactments (WIDGE): an approach to working with therapists on embodied memories of intergenerational trauma. Her numerous writings include: 'The Blood-dimmed Tide: Witnessing War and Working with the Collective Body in Authentic Movement' in the Journal of Psychotherapy and Politics International (2015); and chapters in Embodied Approaches to Supervision (2022), What is Normal? (2020), Talking Bodies (2014), and more.
Title: In Time, Out of Time or Beyond Time?
Abstract:
Time is circular. Circadian rhythms and turning seasons shape the cycle of life.
Time is linear. Forward-thrusting organisation wants structure, progress, and a quick tango through a long list of things to do. In evolutionary terms, modernity brings a new kind of time, a fixed metric that can be – and increasingly is – disconnected from nature. Time is relational. We interact in subtle symphonies synchronising and de-sychronising with others. Time is joyful. We feel the beat of mutual embodied rhythms. Time is traumatic. We cannot find connection with the other or with ourselves.
Now we face an exponential growth in technology, radical social change and climate crisis. What are the consequences for the embodiment of our species of these developments? How can we – should we? – adapt to this changing pace?